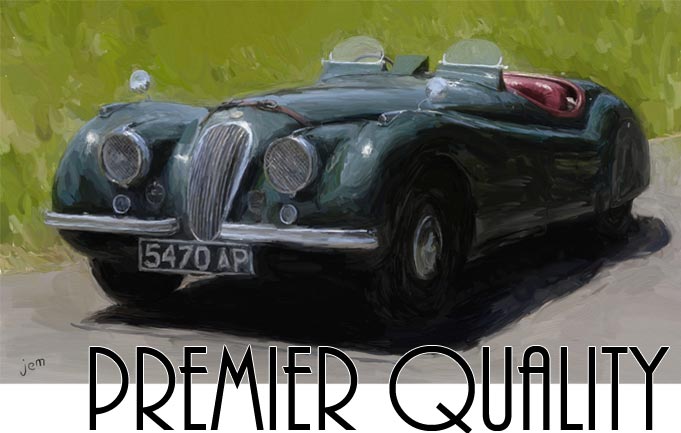 Perfecting the Last Detail
Road use may not place the same demands on your tyres and tubes as competitions, but it still makes sense to use the best components available. A couple of pounds extra for top quality, specialist tubes is a drop in the ocean compared to the time and money you've poured into your pride and joy.
The fitment chart below shows our tube sizes and their popular fitments. All of them come individually boxed with a generous sachet of French chalk and are fitted with metal valves.
Click on a tube size to place an enquiry or call the number below
| Size | Popular Fitments | Price |
| --- | --- | --- |
| 450/500 - 16 TR15 | Ford Prefect 10HP, Morgan Coupé, Standard 8, Austin 7 | &pound12.75 |
| 500/525 - 16 TR15 | MGV 1½ litre, Morgan 4/4, Morris 10, Porsche 356, Singer Nine, Frazer Nash 2 litre | &pound12.75 |
| 525/550 - 16 TR15 | AC Ace, Triumph Roadster, Frazer Nash Le Mans, HRG 1½ litre, Jowett Jupiter, Standard 12 | &pound12.75 |
| 600/625 - 16 TR15 | Ford V8 Pilot, Allard V8, Aston Martin DB2/4, Aston Martin DB4, Daimler 2.5 litre, Jaguar XK120/140/150 | &pound13.50 |
| 650/700 - 16 TR15 | AC 2 litre, Armstrong Siddeley Sapphire, Humber Super Snipe, Jaguar Mk VII/VIII, Rolls-Royce Silver Dawn | &pound18.25 |
| 700/750 - 16 TR15 | Rolls-Royce Silver Wraith, Wlseley 25, Daimler 4½ litre Sportsman Saloon, Humber Pullman | &pound19.50 |
| 450/500 - 17/18 TR13 | Austin Eight, Vauxhall 10HP, BSA "Sports", Rover 10, Jaguar 1½ litre, Riley 12HP, Lanchester 12HP, HRG ½ litre Sports | &pound19.75 |
| 525/550 - 17/18 TR13 | Jaguar SS100, Lea Francis 12HP, Armstrong Siddeley Hurricane, Bentley 4½ litre, MG 2 litre, Lagonda 2½ litre | &pound22.50 |
| 600/650 - 17/18 TR13 | Lagonda 4½ litre, Rolls-Royce Silver Wraith, Daimler 20, Talbot 3½ litre, Jensen 3½ litre, Alvis 4.3 litre, Austin 20 | &pound22.75 |
| 400/450 - 19 TR13 | MG "J" Type, MG "R" Type, Singer Le Mans | &pound18.50 |
| 450/500 - 19 TR13 | Frazer Nash, Alta 9HP, MG 1½ litre, Riley 12HP, MG TC, MG Midget | &pound20.25 |
| 600/650 - 19 TR13 | Alvis "Crested Eagle", Rolls-Royce 20/25HP, Armstrong Siddeley 30 HP Special | &pound24.10 |
| 450/500 - 20/21 TR13 | Model "A" Ford, Model "T" Ford, 1936 Sunbeam, Morris 6, Bentley 3½ litre | &pound18.75 |
| 650/700 - 20/21 TR13 | Rolls-Royce Phantom II & III | &pound25.75 |
Prices exclude VAT and Shipping
Call us on +44 (0)1386 701001